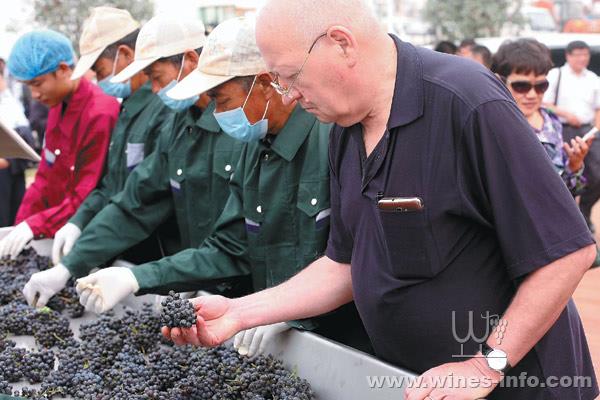 Bordeaux veteran Gerard Colin works with his Chinese colleagues at the Taila International Chateau Ecological Culture Area in Rushan, in Shandong province. China consumed more than 1.86 billion bottles of wine in 2013, 1.36 times the amount it consumed five years ago. [Zhao Ruiyue / China Daily]


For a modest investment, Chinese wine buffs see chance to run their own vineyard
Peng Xiaoxia cannot wait to invite her friends to wander around her vineyard and have a party at a nearby European-style chateau, where wine will be served from bottles bearing her picture and greetings.
"As a wine lover, I think wine should be consumed in a European way-after roaming around a vineyard, picking the grapes if you like, and then sharing a glass or two with family and friends in a chateau," she says.
The 37-year-old, who lives in Beijing, just bought her 666.7 square meters vineyard in the coastal county of Rushan in Shandong province in September-but she is typical of a growing number of Chinese, who have been developing a taste for fine wine.
Peng thinks how a person consumes wine often reflects the lifestyle he or she hopes to enjoy-for her, that's the image of a serene life, with lots of fresh air, and getting close to nature. Owning a vineyard, she says, is living her dream, and she is not alone.
Last year, the country consumed more than 1.86 billion bottles of wine, 1.36 times the amount it consumed in 2008, and their tastes have been growing more sophisticated.
Zhao Wei, a Chinese actress, for instance, spent more than 4 million euros ($654,000) in 2012 to buy Chateau Monlot in the Bordeaux region of St. Emilion, France.
Retired NBA basketball star Yao Ming, too, set up his own winery in 2011, in Napa Valley, California, the United States.
While their way of enjoying wine might appear unreachable for most wine lovers in China, Peng and others are enjoying a rather more affordable way of indulging their passion.
The Taila International Chateau Ecological Culture Area, in Rushan, is the first in China to develop private vineyards at a very reasonable price compared to French or Californian equivalents.
The area has been designed to house 2,000 hectares of vineyards and 300 "chateaus", in whatever way owners wish to design them, says Chen Chunmeng, who is in charge of developing the area.
For 180,000 yuan ($29,400) investors can own a 667-square-meter vineyard for 30 years, says Chen.
Wang Zuming, secretary-general of the China Alcoholic Drinks Association's wine branch, is a fan of the idea. "The Taila area offers the chance to develop private vineyards, and has created a new model for the Chinese wine industry," he says.
People who invest in the area are offered a package of services including grape planting, wine production and trademark design, and Chen has employed a Bordeaux veteran, Gerard Colin, to oversee operations.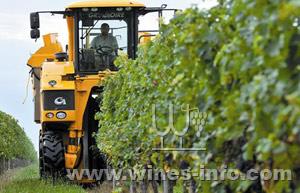 Grape expectations in China Bordeaux wine shop and bar opens in Beijing