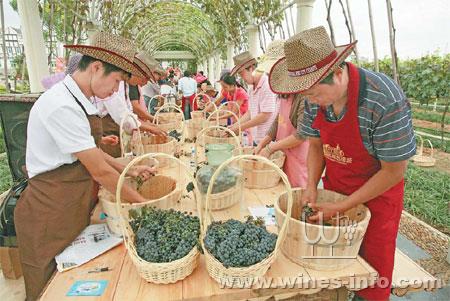 Countries are working to lure a bigger chunk of the growing number of winery visitors from the world's second-largest economy.
The most successful type of agricultural tourism is wineries, which have been opening their cellar doors for years to wine lovers and tourists.
Wineries are a major part of the tourism offerings in Europe, the United States, South America, Australia and New Zealand, and are increasingly catering to the Chinese market, which is a growing force in the global wine trade.
"We recognize in Australia that the Chinese market is going to make a difference down the track, and we pitch to the Chinese," says Amy Burch, general manager of Burch Family Wines in Western Australia.
Burch Family Wines are behind the well-known labels Madfish and Howard Park, among others. They are based in the Margaret River region, an upmarket tourist hotspot that caters little to non-English speakers.
Burch is aiming to change that with the opening of a specialist wine-tasting facility next month, specifically for Chinese tourists. She says the facilities' emphasis on China enabled her to get a grant from the Australian government to help her build.
"The federal government has pitched in toward re-invigorating tourism with tourism providers like myself to ensure that we can work something out specially for the China market," Burch says.
The new facility will offer written material in Chinese and will give a multimedia presentation in Putonghua.
"My program has many different levels for the Chinese," Burch says.
"We feel and we recognize that there is a need to create something so that any Chinese person who walks into my cellar door is surrounded by things that are actually familiar to him."
Burch also plans to develop a food and wine-pairing experience that will offer an option of Chinese or Western fare.
"The visitor from overseas will have money and want to be looked after properly, and so we will make sure we deliver that," Burch says.
Australia is not the only wine-growing region looking to lure the growing number of Chinese wine tourists. The French tourism agency Atout France has worked with Chinese tour operators to create tours of the wine regions that will cater to Chinese visitors. And French travel publisher Michelin has released a guide to the country's wine regions in Chinese.
Spain is working to not only get more of its wines on dining tables in China but also to lure more Chinese tourists to its production sites. It's now the third-biggest wine exporter to China, behind France and Australia.
Li Dehui, 31, works at a foreign corporation in Beijing and visited a winery near Barcelona in Spain last year. He toured the vineyard and checked out the cellar storage and workshops.
"It's a great experience to see the whole production process of wine," Li says.
"I also learned that the more grape leaves and seeds are kept during processing, the rougher the wines will be. Also, the wines I tried were very tasty and much cheaper than those in China."