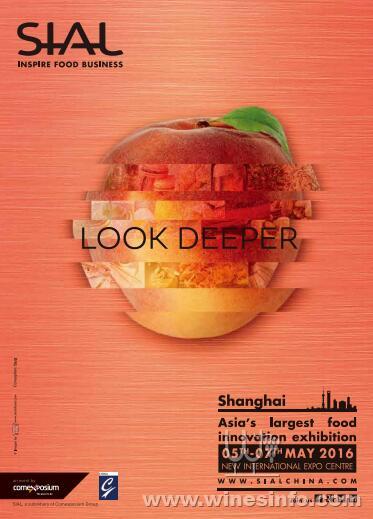 As the last bell of 2015 chimes, a prosperous year of 2016 together with an energetic journey to search the significance in everybody's life is always the best wish for the 2016. With its new years' resolution to deliver a best ever food & beverage exhibition in Asia, SIAL China fully prepares itself to greet foodies from all over the world who search the significance in food & beverage business. Visitor pre-registration system is open now. Register and witness the growth of food industry in China for free. The energetic show will take place from 6h - 8th May, 2015 in Shanghai New International Expo Centre, hall W1 - W5, and E1 - E5. SIAL CHINA will also be co-located with SIAL WINE WORLD.


Diverse products from all over the world - more than 1,000 international exhibitors out of China


In 2016, national pavilion of Brazil confirms its attendance in meat hall. Latvia and South Africa will be in the food hall, following by France, Australia, Tunisia, Switzerland, Spain, Morocco, Korea, Portugal, Thailand, USA, Turkey, Poland, Germany, Belgium, Ireland, Canada and UK. In addition to characteristics products from China, SIAL CHINA will also showcase diverse food & beverage from different countries and regions, including the ginseng and other healthy foods from Korea, tropical fruits from Malaysia, coffee from Indonesia, dairy products from Oceania, tasty meat from Americas, mellow wines from Europe and so forth. Together with the supports from global exhibitors and partners, SIAL CHINA is the true meeting point for Asian food inspiration and business.


As the sharp increase in disposable income, a healthy, balanced and high-quality diet becomes Chinese consumers' new pursuit. Seizing the growing demands, SIAL CHINA will highlight its green food, organic food and Halal food in 2016 edition. These sectors will not only be the focuses of SIAL CHINA but also the window to view the emerging markets in Asian.

The rapid growth of meat sector in SIAL CHINA - 2 dedicated halls, 25,000 sqm


Ever since SIAL sets its footprint in China, meat has been the major driver of the show. Following the sensational meat area last year, SIAL CHINA this year will once again break the record in terms of meat products and exhibitors. Wagyu beef, American beef, Australian mutton, Chinese poultry and pork, along with other meat from all over the world will all converge at the two dedicated halls, 25,000 sqm. Sizzling meat cooked on site and juicy taste on palate will intertwine and become the amazing wonder of SIAL CHINA.
What to expect from SIAL CHINA 2016?
2,700 exhibitors from over 90 countries and regions; 55,000 visitors from over 110 countries and regions
USA as Guest Country of Honor
Heilongjiang as Guest Province of Honor
France, Australia, Tunisia, Switzerland, Spain, South Africa, Morocco, Korea, Portugal, Thailand, Italy, USA, Turkey, Poland, Germany, Belgium, Ireland, Canada, Brazil, UK and more as international pavilions
Showing knowledge and inspiration in SIAL Retail & Hospitality Forum
La Cuisine by SIAL endorsed by World Association of Chefs Societies (WACS)
Promoting hot products at SIAL Innovation
Inspiring business at SIAL Business Meetings
understand the specific characteristics of the food market by geographical area at World Tour by SIAL
In co-location with SIAL WINE WORLD