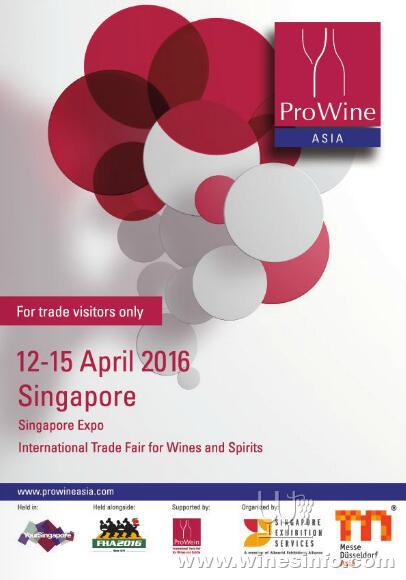 Date: April 12-15, 2016
Venue: Singapore Expo
New ProWein Satellite Event for South-East Asia to be held in April 2016 for the First Time
As a globally operating company the Messe Düsseldorf Group organises top notch global trade fairs that are leading both in their region and sector. For 20 years now the leading international trade fair for wines and spirits – ProWein – has been a successful concept at the Düsseldorf location. In 2013 this concept was also exported, highly successfully, to Shanghai as ProWine China. This is now joined by the new event ProWine Asia, to take place in Singapore in 2016.
With ProWine Asia, Messe Düsseldorf is to continue its successful cooperation begun in Shanghai with the International Allworld Group. In future ProWine Asia will be held in Singapore in parallel with Food&HotelAsia (FHA) every two years. The partners involved are Messe Düsseldorf Asia (a 100% subsidiary of Messe Düsseldorf GmbH) and Singapore Exhibition Services Pte Ltd, a member of the Allworld Exhibitions Network. FHA is Asia's largest international food and hospitality trade exhibition and in April 2014 it attracted over 45,000 trade visitors from the food, retail and hospitality trade. The wine segment (previously known as "Wine&SpiritsAsia") is now further developed and extended with Düsseldorf know-how. As an internationally recognised hub for the whole of South-East Asia, Singapore also offers clear location advantages. All this makes ProWine Asia the perfect platform for export-oriented producers of wine and spirits from throughout the world wishing to tap into the South-East Asian market.
The first edition of ProWine Asia – like ProWein and ProWine China a trade-only event – will run from 12 to 15 April 2016 in Hall 10 of Singapore Expo. For further information and soon also registration documents for exhibitors go to:
www.prowineasia.com.
Additionally, www.prowine-world.com will go live as an overarching Internet presence for the entire ProWein family of trade fairs.

The logo for the new event as well as press photos and logos for ProWein can be found in our photo database in the "Press Service" area at www.prowein.com.
Press Contact:
Messe Düsseldorf GmbH, Press Office ProWein
Corinna Steffens, Brigitte Küppers (Assistant)
Tel.: 0211/4560 –598/–929
SteffensC@messe-duesseldorf.de
KueppersB@messe-duesseldorf.de