Wealthy young Chinese, having acquired a modicum of savoir faire and a taste for liquid luxury, are becoming game changers in one of the world's biggest wine markets, prompting the country's top wine merchants to also become providers of wine education.

This burgeoning army of wine aficionados offers a glimmer of hope for vintners, who have been battered by Beijing's crackdown on extravagance and the mainland's slowing economic growth.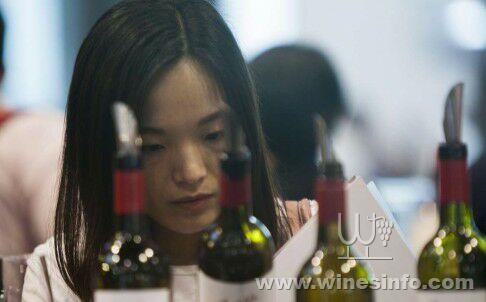 A Chinese buyer of fine wine attends Vinexpo in Hong Kong in May. Photo: EPA
I am amazed at how much young people like me are in love with wine," said Yang Yanlin, the 25-year-old founder of a job search website who also runs wine courses in Shenzhen and Hong Kong. "We launched this programme in 2014 for our friends, and new faces kept turning up."

Most of his more than 120 students, who paid about 4,800 yuan for a 16-hour wine appreciation course, were mainland Chinese professionals in their 20s or early 30s, ranging from banking analysts to tech engineers.

They are well-educated, open to Western ideas, serious about their career, and on top of that, value the good things of the good life," Yang said.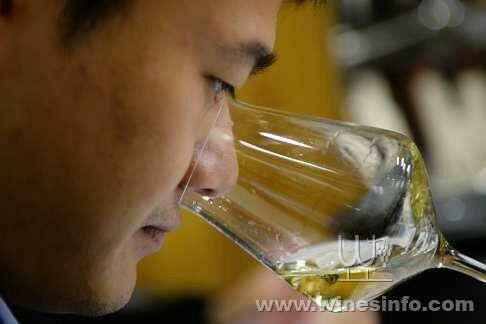 A Chinese shopper eyes a row of locally produced wine at a supermarket in Shanghai. Photo: Reuters
Yang embarked on his love affair with wine when studying in Paris in 2009. He signed up for a wine-tasting course in the French capital and obtained a level 3 certificate awarded by the London-based Wine and Spirit Education Trust (WSET) not long afterwards.

After pouring thousands of yuan into wine every year, he now has shelves filled with handpicked bottles from around the globe.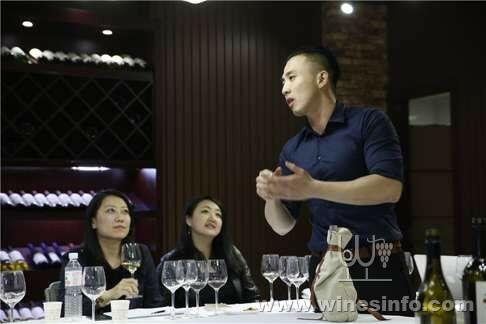 Wine enthusiasts listen to a teacher at a wine-appreciation course co-run
by Yang Yanlin in Shenzhen. Photo: SCMP Pictures
Among affluent Chinese millennials, the appetite for "experiential luxury" such as gourmet dining and overseas travel is on track to outshine the desire to splurge on designer clothes and branded bags.

A survey by the London-based consultancy Wine Intelligence of more than 2,000 upper-middle-class Chinese drinkers of imported wine revealed a "brand new" market segment had come to light since 2012 that differed from traditional Chinese fine-wine connoisseurs, who were rich, middle-aged and favoured deluxe offerings like burgundy and Bordeaux.

How to be a wine taster: calm down, enjoy the experience, and meditate if that helps

"Developing drinkers", typically younger consumers buying wine at mainstream prices and drinking it more frequently now account for about 19 per cent of Chinese drinkers of imported wine, pointing to a "fundamental transformation" of China's wine market landscape, Wine Intelligence said in its China Portraits 2015 Report.

They are more aware of what taste they like, more engaged in wine and more tech-savvy," said Chuan Zhou, a senior research analyst at the consultancy.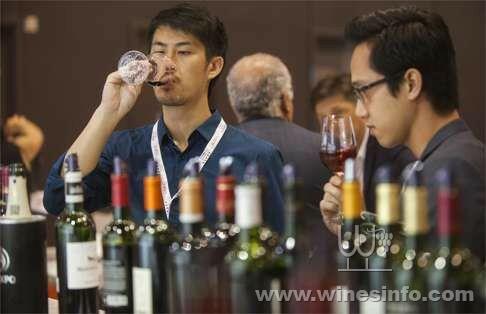 Chinese wine buyers during a wine tasting session at Vinexpo in Hong Kong. Photo: EPA
Between 2009 and 2013, Chinese wine consumption leapt 69.3 per cent to top 162 million cases a year, making it the world's fifth-largest wine market, according to British-based International Wine and Spirit Research (IWSR), a provider of data on the alcoholic beverage market.

But President Xi Jinping's graft clampdown and an economic downturn has seen China's wine consumption shrink for two straight years since 2013 to 149.2 million cases last year. However, IWSR expects Chinese wine consumption will swell by 24.8 per cent from 2014-2018, twice as fast as in the US.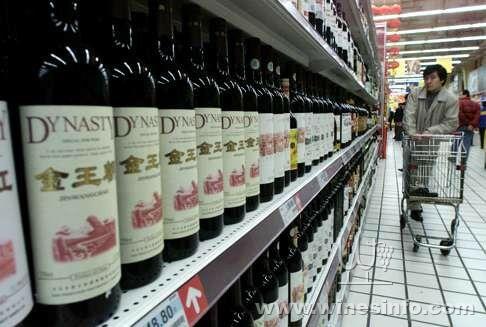 A Chinese shopper eyes a row of locally produced wine at a supermarket in Shanghai. Photo: Reuters
China's crackdown on extravagant consumption dragged premium wine sellers into troubled waters, with prices of prestigious Bordeaux falling from record highs in 2011, when a case of Château Lafite Rothschild could fetch as much as US$23,200. According to data from online wine-trading and market-analysis firm Liv-Ex, in-bottle prices for the top Bordeaux label fell 41 per cent from 2013 to 2015.

Britain's Jancis Robinson on discovering the sensuality of wine

That has led imported fine-wine merchants on the mainland to revisit their approach to China's large but largely untapped customer base.

Guilaume Deglise, chief executive of Vinexpo, which organises exhibitions of wine and spirits, said in Hong Kong in late May that young Chinese consumers were interested in all kinds of wine, making the market open to not only France, but also countries like Australia, Chile and Spain.

"The wine consumption is becoming 'real' in China, not only about gift-giving," he said, adding that entry-level wines had been outperforming upmarket ones.

Bruno Baudry, chief executive of Shanghai-based ASC Wines, China's largest fine-wine importer and distributor, said wine education was becoming more important among the ballooning group of developing drinkers, who were younger and better learners.

Drinking wine was not simply about building up a cellar of burgundy or Lafite, but also entailed the ability to examine the flavours, aromas and draw on the behind-the-scenes story of the glass in your hand.

"For some young working professionals, enrolling in a wine course is also an investment in their career and a way of mixing with people with money," said Jo Purcell, the Hong Kong-based managing director of Farr Vintners Asia, a leading fine-wine merchant in the region.

ASC offers WSET-authorised wine appreciation programmes for Putonghua speakers in first-tier mainland cities such as Beijing and Shanghai, with more than 2,000 students having taken the courses in the past decade.

"They drink wine because they like the taste and the relaxing atmospheres it creates. They aspire to a modern and sophisticated lifestyle," Baudry said.

The students in China learning and talking about wine on WeChat

Meanwhile, old-fashioned wine shops may have to go online to lure the new generation of Chinese wine enthusiasts.

ASC is looking to double its e-commerce sales over the next two to three years by pairing up with major online marketplaces backed by e-commerce behemoth Alibaba, which owns the South China Morning Post, and e-commerce rival JD.com, as well as some specialist online retailers.

ASC's online store features both premium wines and cheaper ones priced from 100 yuan to 300 yuan a bottle, but the wine merchant said entry-level wines were the best sellers online.

"I am more than happy to order online, provided the price is lower, the shop is trustworthy and the taste is what I fall for," Yang said.

To people like Yang, whether the wine is from France or Chile or is one or 100 years old are lesser considerations than price and taste.

China might be one of the world's biggest wine producers, with 799,000 hectares of vineyard area, but most young, well-educated wine lovers like Yang prefer wines from France, Chile or Australia, saying imported wines taste better.

"My students tend to prefer something sweeter, like white wine, and they are always eager to try something new," Yang said. "Sometimes, they also care about how appealing the labelling is."

How Judy Chan went from novice to president of China's top winery, Grace Vineyard

That could spell a turning point for sales of white wine, historically shunned in China, where the colour red is associated with auspiciousness and aristocracy and white is the colour reserved for death.

Some reckon China's army of developing drinkers will evolve to become the future generation of premium wine connoisseurs as time goes by, helping to reinvigorate the top end of the market.

"As they get more cash at hand over time, they will become more sophisticated and ready for fine-wine consumption," Purcell said.