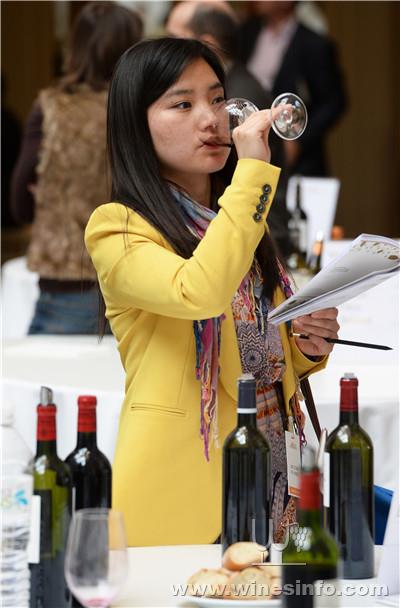 A woman tastes a 2013 vintage red wine at the Palais de la Bourse in Bordeaux, southeastern France.
Bordeaux's exports to China rebounded recently, after the region adjusted the structure of its supplies
For Bernard Farges, president of Le Conseil interprofessionnel du vin de Bordeaux or CIVB, a council of wine professionals and traders in Bordeaux, France, the China market remains an export destination with great potential, in spite of the recent hiccups.

So, Bordeaux will allocate more resources to boost consumption of its wines in China. Bordeaux is one of France's, and arguably the world's, best wine regions.

After two years of decline in export volumes to China due to unavailability of wines, Bordeaux's exports to China rebounded recently, after the region adjusted the structure of its supplies.

Exports to China rose to 61 million bottles, or 24 percent of Bordeaux's combined volume, which were worth 280 million euros ($318.53 million), or 15 percent of the region's global export turnover value.
"China has been topping Bordeaux's global export destinations both in terms of volume and value since 2011. In the next 10 years, we anticipate more diversified consumption among China's consumers on the back of vineyard tourism, wine-related courses at academies and fresh investments," said Farges.

Consumers and wine trade experts said they have seen Bordeaux wines' improving image and Bordeaux wine exporters' efforts to better understand China and its consumers, and to adapt Bordeaux's image to China.

China's drinking habits are changing. Focus has shifted to individual consumption from drinking at group events like banquets. Stress is on personal experiences. This augurs well for Bordeaux labels, experts said.

"Ten years ago, when I heard about Bordeaux through films or television, its wine bottles retailed for 80,000 yuan each. Now, I drink Bordeaux red or white about twice a month. The price is somewhere between 300 yuan and 500 yuan per bottle. I can experiment with pairings of different food and wine, which is quite interesting," said Liu Erye, a consumer and a freelance food reviewer in Shanghai.

Dong Li, a wine importer at Shanghai Junjue Foreign Wines Ltd, said he has received a booklet from a Bordeaux wine trader full of ideas on how to pair Bordeaux wine with Chinese food.

"It is really interesting to read some of the ideas. You can tell that the French winemakers have made extremely great efforts to understand Chinese cuisine and Chinese taste buds," said Dong.

One pairing tip suggests matching soft and well-structured dry red wine from Saint-Émilion, Pomerol or Fronsac with fresh pork moon cake. The wine and food share many things in common, including saltiness, complexity and structure of tastes. The wine's tannin and acid can balance the meat's oily feeling, the booklet states.

Other tips include having the fruity Bordeaux Supérier rosé with chili bull frog, and braised pork with Médoc or Graves dry red wine.

CIVB has been researching global consumers' preferences and tolerance to various tastes that Bordeaux wines offer. The research includes a study of Chinese consumers' preference for levels of tannin, acid, sweetness, bitterness, flavor and the age of wine. The results will be out by this year-end.

Faced with competition from the world's emerging brands in China, the Bordeaux wine sector professionals are focusing on their own products to forge ahead, said Thomas Jullien, representative of CIVB's Asia-Pacific operations.

"We don't have some particular strategies to handle increasing competition. The wine sector is a key pillar of the Bordeaux economy. So, we focus on improving quality to produce wines that offer higher value. We have been making great efforts to educate and inform consumers about wines. Chinese consumers now associate Bordeaux with wine quality.

"We are pleased to note that Chinese consumers are choosing wines other than those from Bordeaux. This shows they are learning, experimenting and comparing. We believe oenophiles will always buy and drink Bordeaux wines again and again," said Jullien.