This first market report from the ProWine China trade forum held earlier this month looks at the preferred wine flavour profiles for Chinese consumers and how to attract young professionals into buying wine.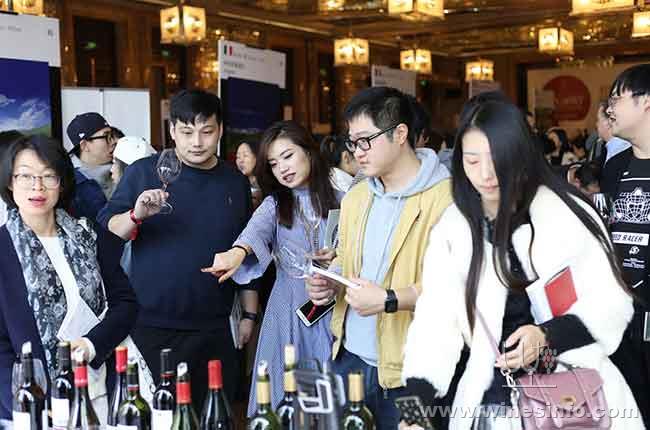 Chinese wine lovers at the Decanter Shanghai Fine Wine Encounter 2018. Credit: Decanter
Half-sweet and lower tannin are preferred flavours
According to the latest consumer behaviour research conducted by the Beijing University of Agriculture, Chinese consumers prefer wines with a touch of sweetness and less tannin, although health concerns prevent them from buying dessert wines.
The survey focused on those with nothing more than a passing interest in wine, said Professor Li Demei, who initiated the research with his team.
White wines with slight sweetness and moderate acidity, as well as red wines with medium to lower acidity and tannin levels, plus some sweetness, are generally preferred by Chinese consumers with little experience of wine, according to the survey.
Additional gender analysis showed that female consumers are more tolerant of wines with higher sweetness, while male consumers are more tolerant of bitterness and tannins.
Dessert wine sales struggle
Chinese consumers seem to favour some sweetness in wine, 'because it is an easily likable and perceivable element in wine, as opposed to acidity and tannins,' said Professor Li.
However, the sales figures of rich, sweet wines such as Sauternes in the Chinese market have hardly been satisfactory.
'The only exception is Ice wines—although many buy them as gifts, rather than for personal consumption,' said Li.
According to Agriculture and Agri-Food Canada, China is its largest export market for ice wines by some margin and in 2016 imported 6.5 million CAD worth of wine.
Further interviews with those who took part in the survey showed that a wide concern over obesity is another key reason preventing modern Chinese from consuming intensely sweet food and drink.
'Although they can appreciate the quality of premium dessert wines, they're hesitant to drink it,' said Li Demei.
Regional dining habits also influence the preferred palates of Chinese consumers, according to the research.
Looking at the four key cooking styles in China, consumers who prefer Sichuan cuisine tend towards smoky flavours, while Huaiyang cuisine lovers show more tolerance to bitterness, and are attracted to wines with grass and apricot flavours. Consumers used to Cantonese cuisine tend to dislike sharp bitterness and tannin, while Shangdong cuisine lovers are the most tolerant of tannins.
Reasons to buy: Quality and brand
Quality is the number one consideration for Chinese consumers when deciding to buy a bottle of wine, according to the survey.
However, 'they don't exactly know how to define quality in wine,' said Professor Li, adding that mass consumers are unfamiliar with quality indicators for wine such as aroma, tannin, body and balance.
Brand is the secondary factor that influences buying decisions; the survey shows that mass consumers are much more familiar with domestic wine brands such as GreatWall and Changyu, as opposed to imported wine brands such as Lafite and Penfolds.
However, they are aware of a larger number of foreign wine brands than domestic brands and producers.
When choosing a bottle of wine, more than half (54.6%) of those surveyed prefer a red wine to a white (31.2%) or a rosé (14.2%).
The results align with joint reports from Vinexpo and International Wine & Spirits Research (IWSR) that show that 88.8% of wines consumed in China in 2016 are red, while white (10.6%) and rosé (0.6%) still occupies only a small fraction of the market share.
Attracting millennial drinkers in China
The key to attracting more young Chinese into wine is to 'lower the thresholds' by making it more relatable and easier to comprehend, according to Wang Shenghan, founder of wine e-commerce platform 'Lady Penguin'.
Launched in 2015, this subscription-based wine media and retail brand now claims to have over four million followers across Weibo, WeChat and TikTok (Douyin), and over 8000 monthly subscribers, most of whom are young and entry-level wine drinkers.
In an effort to raise their social status, more and more young office workers aged between 20 and 25 are getting into wine, said Wang.
Wine Intelligence also estimates over a quarter of Chinese urban upper-middle class imported wine drinkers are 'Social Newbies' — younger consumers who see wine as an interesting and social drink, according to its China Portraits 2017 report.
Creating bite-sized, entry-level wine videos is among the most effective means of communication on social media, said Wang, who has more than two million followers on short-video sharing platform TikTok (Douyin).
These videos need to 'use cultural references they are most familiar with', she said.
To communicate the quality of wines, 'a 10-point system is easier to understand by Chinese consumers, as they commonly see it (on movie reviews or restaurant ratings),' said Wang, adding that Lady Penguin is currently using a 10-point system to rate the wines they sell, rather than a 20- or 100-point system.
Incidentally, China Alcoholic Drinks Association (CADA) recently announced its intention to launch a 'wine rating system tailored for the Chinese market' that will also adopt a 10-point system in an attempt to provide more clarity to mass consumers in China.
Wang added that distributors should also look at the lifestyles and the practical needs of young professionals.
She gave the example of young consumers who like to have a drink before going to bed, but constantly struggle to finish a full 750ml bottle. Seeing the demand, Wang and her team launched an extra-small format (187ml per bottle, £25-£35 per box of four bottles) tailored for this market.