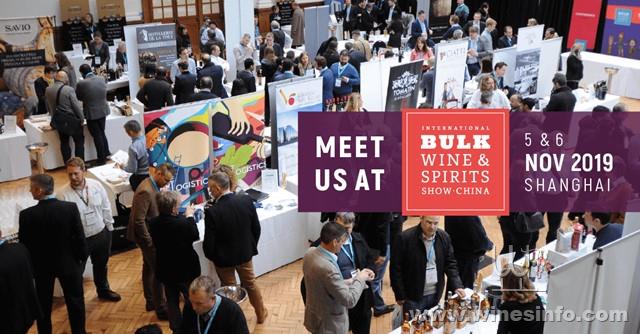 In November 2019, Beverage Trade Network will host the first-ever International Bulk Wine & Spirits Show (IBWSS) in Shanghai, China. The two-day event (November 5-6, 2019) will include an exhibition trade show floor for buyers and sellers to meet in a central marketplace, as well as a series of speaker presentations, panel discussions, and Q&A sessions designed to offer practical, actionable advice about the Chinese bulk wine and spirits industry.
Who are the exhibitors?
The event is open for global bulk wine producers, negociants, brokers, contract bottlers, importers and distributors looking to enter the fast-growing Chinese wine market. By becoming an exhibitor at this first event of its kind in China, you will be able to meet directly with Chinese buyers looking to expand imports of foreign wine.
At the same time, you will be able to explore the many new offerings from the Chinese wine market, including vineyards that specialize in Cabernet Sauvignon, Merlot and Cabernet Gernischt for the global bulk wine market.
IBWSS China exhibitor registration is now open. Register your spot before September 30th, 2019.
Who will attend the event?
IBWSS buyers are other wineries and distilleries looking to meet up their demand, Importers, Retailers, and Distributors looking for private label programs, negotiants who are looking to meet the growers and producers. Get your visitor pass today and meet the leading bulk and private label suppliers from all over the world.
Conference
The two-day IBWSS China event in November 2019 will feature two major components – a lively exhibition trade show floor where 80+ exhibitors will be able to meet directly with potential buyers in China's vibrant wine capital. There will be plenty of time for networking, making contacts, and face-to-face interactions with Chinese buyers. This is really a unique opportunity to expand into the all-important Chinese wine market.
IBWSS China event will feature an all-star lineup of top wine industry experts and insiders, who will share their insights and advice on how to succeed within the global bulk wine and spirits industry.
For example, you will learn how Chinese wine drinkers differ from those in other wine markets (especially those of North America and Western Europe), how the Chinese regulatory environment impacts the success of any bulk wine program, and different ways that bulk wine producers are ramping up their China strategies.
To make this event as interactive as possible, Beverage Trade Network is planning a list of speakers who can present their own experiences and insights in lively, TEDx-style talks. If you've been looking for an opportunity to become part of the fast-growing private label wine and spirits trend, IBWSS China is the place to be in November 2019.
Date And Time
Tue, Nov 5, 2019, 11:00 AM –
Wed, Nov 6, 2019, 4:00 PM CST
Add to Calendar
Location
The Place: 457 Jumen Road, Unit 407, Bridge 8 Phase IV, Huangpu District
++++
Shanghai, 200023
CONTACT BY PHONE OR EMAIL
Phone:
China Office +86 21 28909082
USA Office: +1 855 481 1112
UK Office: + 44 330 097 0138
info@ibwsshowchina.com.