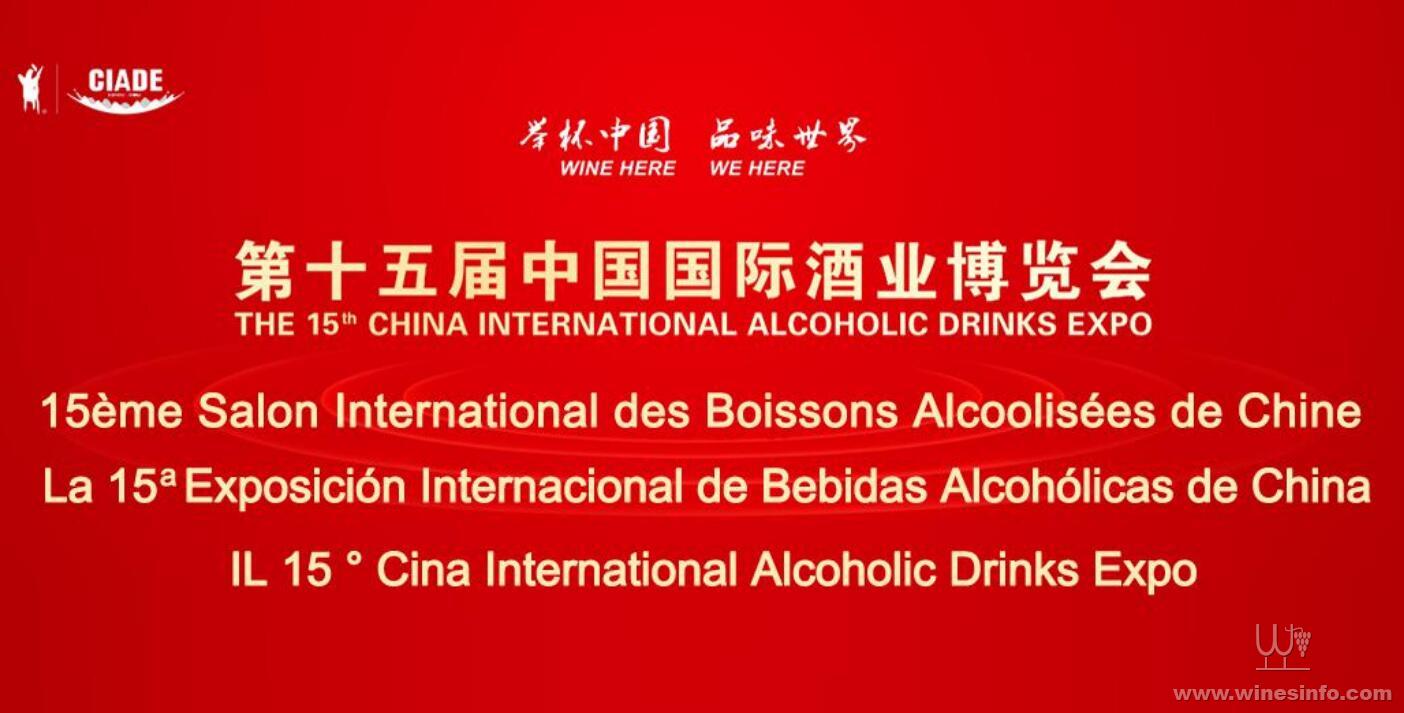 Luzhou Wine Fair, short for China (Luzhou) International Alcoholic Drinks Expo, will celebrate its 15th edition from March 18th to 22th, 2020 at Luzhou International Exhibition Center in Sichuan Province> It is right before the 102th edition of China Food & Drinks Fair (Spring session, March 26-28, 2020) in Chengdu. Since 2006, the luzhou Wine Fair has been successfully held for 14 editions,which is an important platform for wine brand exhibitions and wine industry exchanges and cooperation.
The 15th Luzhou Wine Fair will create new opportunities for the development of the wine industry and show new trends and new achievements in wine trade . During the exhibition,The Sponsor, China Alcoholic Drinks Association (CADA) will invite more than 2000 distributors of alcoholic drinks, which companies annual sales should exceed 5 million yuan. During the fair, Our company Fair Huatse actively organize various activities and build a service platform in between exhibitors, professional visitors and consumers . Our philosophy is to constantly deliver events that value- for-money and results well-being for our partners and clients.
Organization Committee
Sponsor : China Alcoholic Drinks Association (CADA)
Suppor ter: China Federation of Light Industry
Official Organizers:
Sichuan Provincial Economic And Informaiton Deparment,
Sichuan Provincial Department of Commerce,
Foreign Affairs Office of Sichuan Province,
Sichuan Provincial Bureau of Economic Cooperation,
Luzhou Municipal People's Government
Co-organizers: Luzhou LaoJiao Co.Ltd., Sichuan LangJiu Group, Sichuan Province
Liquor Group, and other well-known alcoholic drinks producers.
International Organizer: Guangzhou Huatse Fair Co.Ltd (Fair Huatse).
Exhibition Theme: Toasting China · Tasting World
Dates & Time:
1、 Booth Preparing&Setting-up Time: 09:00- 18:00, March 18, 2020
2、The Exhibiting&Trading Time: 09:00-18:00 March 19-22, 2020
3、Opening Ceremony: Morning of March 19, 2020
4、Fair Closing/Stand Dismantling Time: as from 12:00am of March 22, 2020
Venue: Luzhou International Exhibition Center, Sichuan Province
Exhibition Scale: There are totally 5 exhibiting halls, which are divided into: "the Belt and Road" Countries Hall, International Boutique Hall, Chinese Spirits hall, Domestic Comprehensive Hall, and Technology&Equipment Hall.
About Fair Huatse
Guangzhou Huatse Fair Co.Ltd (Fair Huatse)Fair Huatse has been a professional and effic ient Integrated Service Provider dedicating to Wine & Spirit Industry for more than 8 years .We focus on providing services such as trade show, promotional events ,brand planning and media agency for overseas wine as sociations ,producers , exporters and Chinese importers .
Fair Huat se has been the international organizer for China (Guizhou) International Alcoholic Beverage Expos ince 2011 and has organized international exhibitors with government subsidies from 2011 to 2015. Also, We are the organizer of Chengdu Golden Wine Show & InterSweet China. We are the bid winner to execute the 10th China (Guizhou) International Alcoholic Beverage Expo Roadshow in Madrid, Spain on November 4,2019; We are also authorized international exhibitor and buyers organizer for the 2nd Zhejiang Qingtian Internaitonal WineExpo in 2019. And Our company Fair Huatse is the bid winner and thus appointed as international organizer to invite international wineries to participate in 2020 Luzhou Wine Fair.
Show Report of Last edition
The 13rd China(Louzhou) International Alcoholic Drinks Expo (Luzhou Wine Fair for short ) was successfully held from March 24-27, 2019 in Luzhou. The theme of this wine expo is "Toasting China · Tasting World". Compared with the previous wine expo, the 13rd wine expo has the following features:
First, the content of the activities is more abundant. There are 31 major special activities at the Luzhou Wine Fair,which increase 13 activities over last year. Second, There are more active investment transactions. The Louzhou Wine Fair signed 36 contracted projects with a total investment of 33.11 billion yuan. Third, the exhibition scale is more scientific and the guest lineup is larger. There are 5 professional exhibition halls, with a total exhibiting area of over 80,000 sq.m. We invited voth political and commercial VIPs from 40+ countries, including officials from Italy and France.etc. And more than 1,000+ Chinese domestic and overseas enterprises participated in the exhibition with 5,000+ products. 2,500+ guests including leaders of ministries and commissions, principals of enterprises from home and abroad were invited to this great event. Fourth, the number of People involving in this event is much bigger. The total number of online and offline visitors have reached 2.5 million, and nearly 450,000+ visitors came to this fair and attended a series of activities.
How to get to Luzhou, Sichuan
Luzhou Yunlong Airport
Aircode: IATA:LZO, ICAO:ZULZ
Shanghai-- Luzhou, MU5794 , 20:25 Pudong T2 -- 23:55 Luzhou Yunlong
Guangzhou--Luzhou, CA4352, 06:25 Baiyun T1 -08:35 Luzhou Yunlong
Guangzhou--Luzhou, CA4456, 12:55 Baiyun T1 -15:05 Luzhou Yunlong
Beijing--Luzhou, MU5693, 08:05 Beijing Daxing --13:00 Luzhou Yunlong
Beijing--Luzhou, MU9710, 12:25 Beijing Capital T2 --15:40 Luzhou Yunlong
Chengdu East Station - LongChang North Station 45-67 minutes
Chongqing Shapingbai/West/North Station-- LongChang North Station 34-46 minutes
From LongChang North Station take 1 hour taxi to Luzhou City Center or Fairground
From Chengdu City Center to Luzhou: 4 hours
From Chongqing Airport to Luzhou: 3 hours
Detailed Introduciton of Luzhou
Luzhou, a prefecture- level city in Si chuan Province, was known as Jiangyang in the ancient times , ni cknamed China Wine City and Jiangcheng. Luzhou i s a center city in the regional junction of Sichuan, Yunnan, Gui zhou and Chongqin provnce. It is an important trade and logi stics center in Chengdu-Chongqing economic circle.Also, it's an important port city in the upper reaches of the Yangt ze River. What's more, luzhou is the third batch of national new- type urbani zation comprehens ivepilot areas , cross -border e- commerce comprehensive experimental areas , world- classliquor indus try bases , the country 's important food indus try bases with famous wines , recycling chemi cal bases , and clean energy production Base, high- tech indus triali zation bases and one of the country 's nine major construction machinery production bases .Luzhou is a national cultural city with more than two thousand year s of hi story. Jiangyang Hou Kingdom was es tabli shed in the Wes tern Han Dynas ty. Luzhou was built by Emperor Wu Liang during the Datong period. There are lot s of intangible cultural heritage, such as Luzhou Laojiao winemaking technology, Gulanglang wine traditional brewing technology, Luzhou oil paper umbrella, and ancient Qiang Lantern,etc. Luzhou has a long hi s tor y and has formed five characteri s ti c touri sm resources represented by famous wine culture, ecologi cal culture, red culture, his torical culture, and Yangt ze River culture.Until 2018, Luzhou has a total area of 12,232.34 square kilometers .There are 3 muni cipal districts and 4 counties .According to the s tati s ti cs , there are about 5.0958 million regi s tered people in 2017, and luzhou achieved a regional GDP of 159.621 billion yuan in 2017, with a year-on-year growth of more than 9.1 percent.Luzhou, China On 3rd July 2018, Luzhou Muni cipal People's Government i s sue the Three-Year Action Plan (2018-2020) whi chrequires the future GDP of Al coholi c Drinks will reach to 100 billion Yuan. It aims at taking advantages luzhou's core advantages of "China's liquor origin" and " the world's top ten liquor producing areas to improve the quality and effi ciency of the liquor indus try, and accelerate the construction of high-quality liquor core production areas , brand clusters , innovation and entrepreneur ship clusters , and liquor indus try clusters .By 2020, the Baijiu revenue of the Luzhou city will reach to 100 billion yuan, it s core position of China's golden triangle of Bajiu will be more stable, an internationally renowned Baijiu production area will bas i cally form. Laojiao Co.Ltd's annual sales will exceed 20 billion yuan and strive to reach 30 billion yuan Yuan. Langjiu Co.Ltd. was success fully li s ted and it s main bus iness revenue will exceed 20 billion yuan. Chuanjiu Group Co.Ltd continues to developing with annual sales exceeding 10 billion yuan. The annual revenues of China's Golden Triangle of Jiu will reach to nearly 80 billion yuan.
The Principles and Objectives of the Luzhou Wine Fair : We will fully implement the spirit of the 19th national congres s of the Communi s t Party of China(CPC) -3rd and 4th plenar y sessions to promote the internationalization of China's liquor indus try and facilitate its innovative development and technologi cal progress . In accordance with the " three satis factions " principle of exhibitors , buyers and consumers , We should seize new opportunities and take advantage the platform of China(Luzhou) International WineExpo for product trading, informaion technology communi cation and culture promotion to enhance its reputation and influence, then make it well -known around the world.
Special Offer for International Exhibitors
Special Offer: For international wineries/exporting companies with foreign exhibitors, we provide booth with construction free of charge and 4-night hotel room for free for each 9 sq.m booth.
1、Mandatory Requirements: Every 9 sq.m Booth must be attended by at least ONE foreigner representative.
2、Requirements for Exhibiting Products: Exhibitors must ensure that the products exhibited are original imported wine and spirits. Fake wines are strictly prohibited.
3、Verification of Qualification : The applicant shall provide documents required as following :
① Application form for Registration (validated with official seal + legal person signature)
② A copy of a valid business license of the exhibiting company. JPG (with official seal)
③ Food / Alcohol Distribution License if any (JPG)
④ Health inspection certificate of all exhibits if any (JPG)
⑤ Customs declaration form for all exhibits if any (can cover price, JPG)
⑥ Exhibits information collection form (fill in according to Excel template)
⑦ Passport information page of a foreign winery representative (clear copy JPG or scanned JPG)
⑧ Exhibitor photos + business cards (used to make exhibitor badges, face recognition).
Pls Sent above documents to: Ms.Sophie Zhang Email: sophie.zh@huatse.com CC to: 1561220643@qq.com
4、Registered Exhibitors should participate in the fair as scheduled during March 19-22, 2020.
5、Deadline for International Exhibitor Registration: January 20, 2020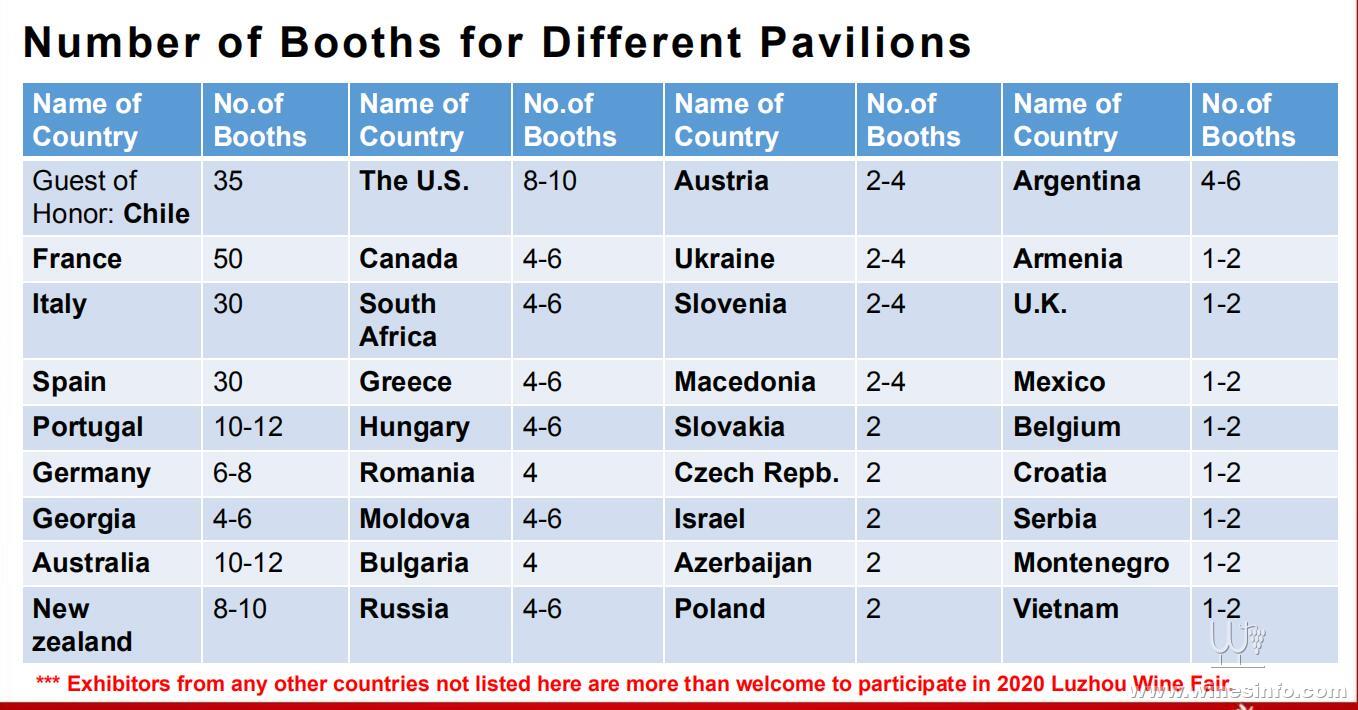 Contact Us
Contact Person Mobile Email
Erica Chang +86 186 2027 0399 erica.zh@huatse.com
Sophie Zhang +86 186 2029 0995 sophie.zh@huatse.com
Karen Zhang +86 135 3328 7740 karen.zh@huatse.com